Hubby and I started looking for apartments since a few weeks ago and he always used to say that he likes tenement houses (kamienicy). I didn't really understand his love for them until last week. We went to visit one in Wilda and I just fell in love with them! The only downside about them is the location. They are usually located in a not child-friendly place. So that means: Wilda, Jeżyce, Grundwalska, Stary Miasto or places like that. So now we're in a huge dilemma between an apartment in a building from 1910's with sky high ceilings (not sky high.. but 3 – 4 m approx.) or a new one which will have low and tiny rooms but a nice location and façade.
I love the idea of combining old fragments of the building with new modern decoration. My favorite thing is that you can expose the old red bricks and show the "heart and soul" of the construction. I've heard that sometimes you can find bullets from the II World War!
The following pictures are not exactly from Poland, but they still are in tenement houses.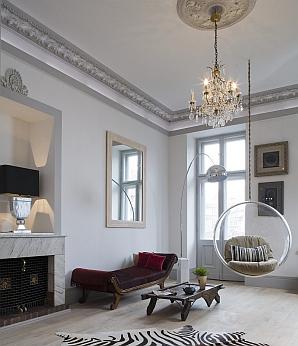 Something interesting also is that in some doors into the apartments you have the hole for letters in German "Briefe".
Here are some before and after's from Manhattan Nest :
What do you think? Do you like them or would you rather live in a new building? Of course a new building with high ceilings and big rooms in an amazing place would be ideal. But we can't be picky when we are in kind of a budget.
For daily updates and a bit more of my daily life like me on Facebook!
Or you can follow me on Twitter @evesotomayor